My Adhesive Material Seems Thicker Than Normal. What's the Problem?
Despite its frozen state, a pre-mixed adhesive material is still reacting. Freezing will slow down the reaction time to months or even years, but it doesn't completely stop it. 
Unlike frozen hamburger, which thaws over a few hours, frozen adhesives begin to thaw – and thus react – immediately when exposed to warmer temperatures. It's this reaction that affects the viscosity of the material. 
As the reaction proceeds, the viscosity increases. 
Factors that affect your adhesive before it's used:
Opening the freezer frequently
When the freezer is opened, warm air is introduced to the environment. The freezer then recalibrates.
Open the door too frequently and the freezer is unable to consistently maintain its setting (e.g. -40°C or below). 
Pulling adhesive packages out of the freezer
When searching for adhesive syringes needed for a project or job, customers will pull packages of syringes out of the freezer and set them on top. 
It doesn't take long for the material to begin to thaw – and condensation to form on the syringes. 
A 3cc syringe, for example, will thaw in 10 to 15 minutes at 67 to 68 degrees Fahrenheit. Even a few minutes outside the freezer will speed up the reaction time. 
Once the correct material is located, the syringes with the now reacting material are put back in the freezer. The formed condensation obscures the label – making it more difficult to read and requiring longer time to locate the correct material as time goes on. 
Freezer is running warm
A warm running freezer is usually due to a faulty compressor or condenser. Even a few degrees change in temperature can affect the viscosity of the adhesive. 
Power failure
Similar to your at-home freezer, if your facility loses power for several minutes or hours, the frozen adhesives will begin to thaw – even if you don't open the freezer. 
Tips for correctly storing your pre-mixed and frozen adhesives
Educate your team
Make sure everyone understands how temperature changes affect frozen material. You can also add a "stop" sign to the freezer so that people don't pull out bags of syringes while searching for another material. 
Add a color code to syringe labels
In response to customer requests, Appli-Tec began color-coding labels several years ago. The color stripe allows you to quickly ID a product in the freezer without having to pull out bags in order to read the labels.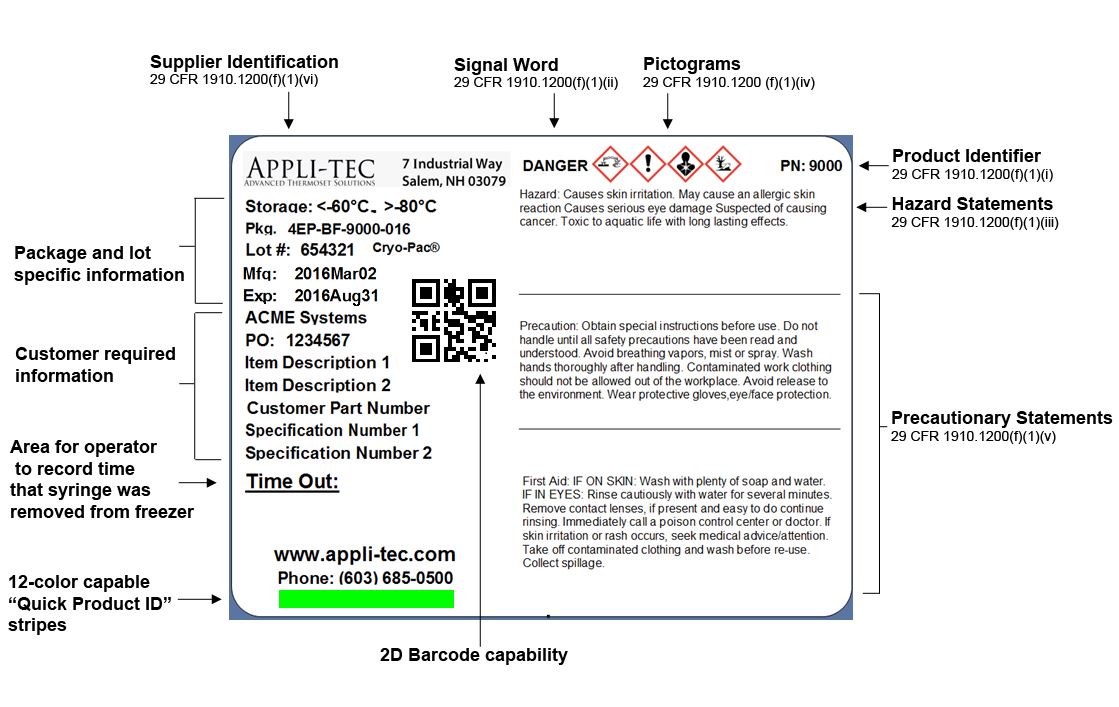 Ensure your freezer is correctly calibrated
This process is best overseen by a company specializing in biotechnology, pharma, and medical device freezer calibration.
Learn more
For additional information about storing and thawing your Appli-Tec pre-mixed and frozen adhesive syringes and cartridges, see our Material Handling Tips.