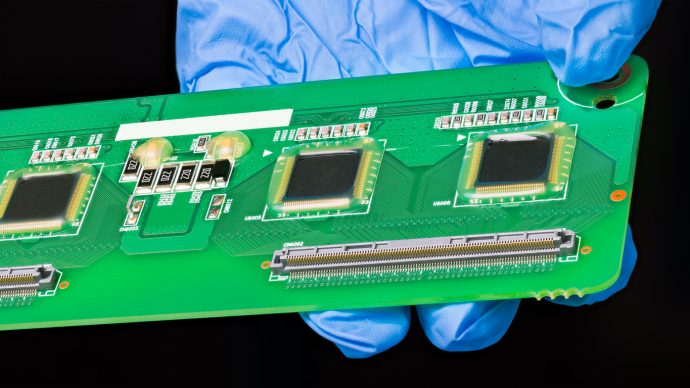 A customer tested an adhesive bonding application in-house: specifically, the engineering team bonded a small component to a glass substrate to test the adhesive.
The adhesive worked well. However, when the team tested the same adhesive on a printed circuited board (PCB), the board warped after cure. They called Appli-Tec for help.
The problem was two-fold:
1. Because the thin board wasn't rigid enough, it was warping due to the adhesive shrinking during the cure process.
2. The adhesive was shrinking because the cure temperature was too high. The high temperature was also putting stress on the board.
Bonding components to PCBs is different than metal-to-metal bonding (e.g. aluminum to aluminum). Rigid PCBs are made from fiberglass, composite epoxy, or other material and thus respond differently to heat than traditional substrates such as glass or aluminum.
High temperatures generated by components on the board can cause damage and malfunctions – which is why heat sinks and thermally conductive adhesives are used to direct heat away from components.
The heat generated during soldering can also cause thermal stress on components and can lead to board failure.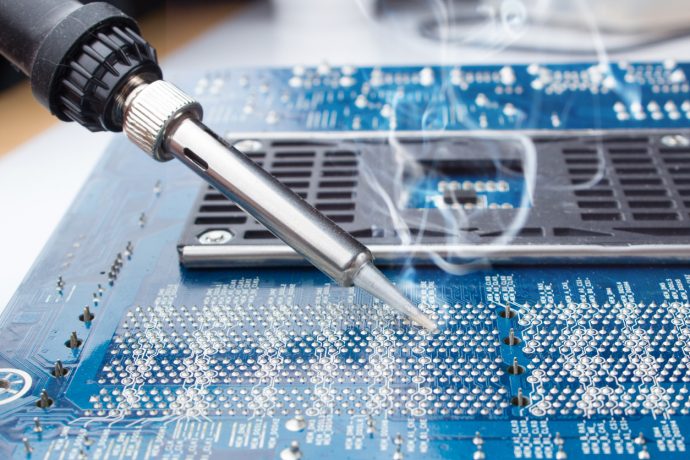 And, as the engineering team learned, extreme heat during the cure cycle was fine for a glass substrate, but not their thin boards nor the adhesive they were using.
As part of our process, Appli-Tec can recommend adhesives that cure at lower temperatures, thus reducing stress on boards and components, as well as stress due to shrinkage.
We can also recommend electrically conductive adhesives that can replace solder for temperature sensitive components.
Appli-Tec has a wide variety of adhesives with proven abilities to bond components to PCBs and withstand harsh environments.
Polyimide flex circuits
In the last year, we've fielded many questions from engineers about bonding components to flexible circuits made from polyimide (PI) materials. We've also been asked about bonding flex circuits to other substrates, such as rigid circuit boards.
Bonding on a flexible substrate offers its own challenges. The adhesive must be flexible enough to withstand a degree of bending and strong enough to maintain the bond.
If you have a flex circuit adhesive bonding challenge, contact us or complete our RFQ form. We're happy to talk with you to see if we can solve your challenge. If we can't, we'll recommend a company who may be able to help.