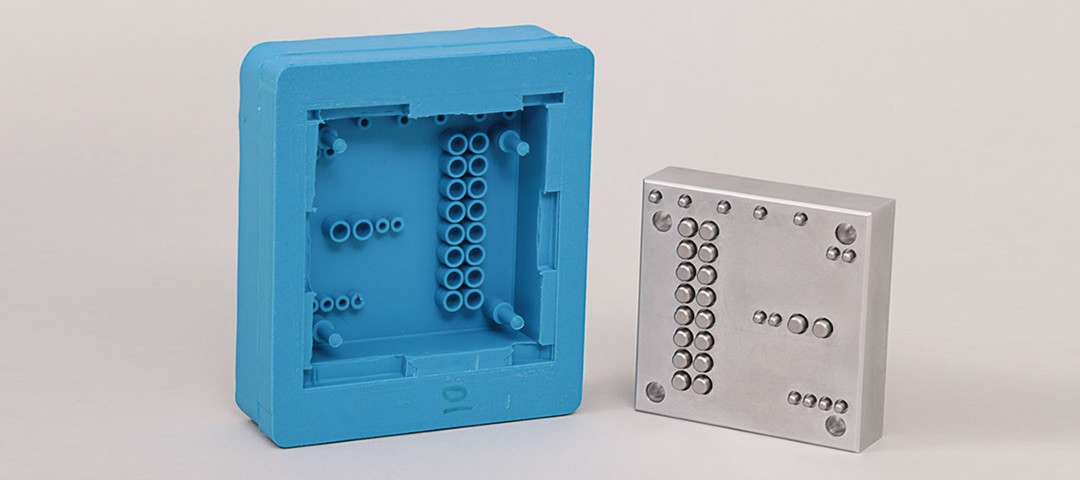 Situation
A customer with "adhesive issues" contacted Appli-Tec. The customer wanted to create reusable molds for an epoxy application. The challenge: make 20 of the blue rubber molds using the metal master mold pictured.
Solution
The rubber mold consisted of a two-part liquid material, a base resin and a hardener. The challenge was processing the material in a way to allow it to flow freely — and free of air — while conforming to the intricacy of the mold.
Appli-Tec mixed, degassed, then froze the material into dispensing tubes. Once frozen, we then thawed the tubes and dispensed the material into the master mold to form the the reusable mold.
Results
Appli-Tec solved the customer's application challenges. Additionally, by having Appli-Tec perform all parts of the process (mixing, dispensing and curing), the customer didn't have to touch the "wet" material or deal with any safety paperwork such as Safety Data Sheets (SDS) or Material Safety Data Sheets (MSDS) — thus reducing risk and saving time.
This application is another example of how Appli-Tec can work with you. We can either create an adhesive material that does "what you want it to do" or we can create the adhesive material and provide additional services, such as creating reusable molds as we did here.
---
How to get started
Whether you need a quote or you have questions about material availability, we can help.