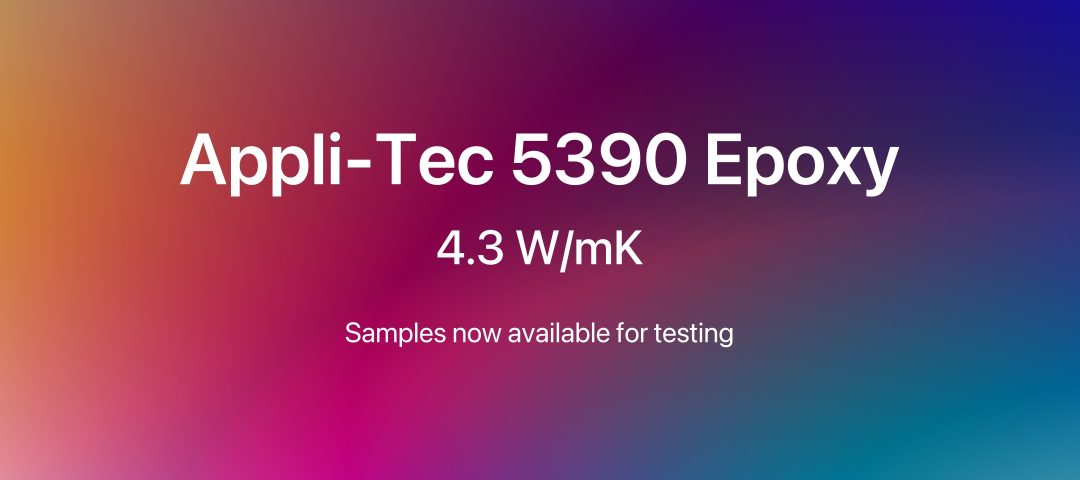 For years, engineers have approached Appli-Tec looking for an adhesive that is extremely thermally conductive and electrically insulative to address thermal management challenges in delicate components.
Heat dissipation in electronics extends life and ensures reliability. Traditionally, high thermal conductivity required that epoxies contain fillers such as silver; unfortunately, those fillers also conduct electricity, which can damage sensitive electronics.
The core problem: provide exceptional thermal conductivity while delivering a material with no electrical conductivity.
Appli-Tec is happy to announce that our team has met this challenge with the introduction of Appli-Tec 5390 Epoxy, now manufactured at scale. Appli-Tec 5390 has an independently verified thermal conductivity of 4.3 W/mK.
Appli-Tec 5390 is silver-free — making it ideal for attaching heat sinks or chips to circuit boards for electronics applications. The material is hard once cured and remains cold, even after held in the hand for several minutes.
The material is available as ready-to-use, pre-mixed and frozen (PMF) syringes.
Samples available for testing
Appli-Tec has made available a limited number of samples, at nominal cost, for testing. To request a sample of 5390 Epoxy, please complete this brief form.
How to get started
Whether you need a quote or you have questions about material availability, we can help.