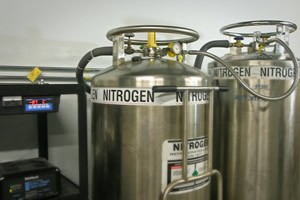 SALEM, N.H. – January 22, 2009 – Although Appli-Tec lost electrical power along with nearly 2,000,000 businesses and residences throughout the Northeast during the devastating ice storm of Dec. 2008, the power outage had no impact on the company 's ability to meet the needs of its customers. When the power went out, the recently upgraded automated freezer backup and security systems were activated.
A supplier of premixed and frozen adhesive systems, Appli-Tec preserved the integrity of its just-in-time supply chain and customer-owned frozen inventory stored on site.
The freezer backup system, which maintains temperatures at specified set points for each freezer, responds automatically to power interruption or mechanical failure. The system is fully self-contained and is not manually operated nor powered by generators, which can be unreliable.
The facility's security system also monitors complete or partial loss of power. When power interruptions occur, an emergency response team is alerted, providing even greater assurance for Appli-Tec's customers.
Not only did Appli-Tec safeguard its inventory during the power outage, which permitted all shipments to take place according to schedule, but also replenished the spoiled inventory of numerous customers who were not similarly prepared.
Appli-Tec currently maintains an inventory of frozen adhesives on its premises for a number of customers, which are delivered on an as-needed basis. If your company is interested in ensuring production-floor efficiency by maintaining off-site inventory that is ready when you are, please contact Customer Service @ 603-685-0500.
About Appli-Tec:
Appli-Tec was established in 1983 and is widely recognized as a leading provider of advanced thermoset solutions.
Appli-Tec provides full-service adhesive packaging solutions, including premixed and frozen syringes, multi-component pouches and cartridges of nonreacted material, and large-volume containers. The company also offers an array of specialty services that includes custom material development; potting and encapsulation; conformal coating; casting, slicing, lapping and CNC machining; bonding, staking and tacking; and cryogenic storage.
Located in Salem NH, APPLI-TEC operates a 20,000-square-foot facility and has been ISO-9001 certified since 1996. The company's strong emphasis on quality testing and certification has enabled it to become the preferred provider to defense, aerospace, medical, microelectronics and industrial firms that demand high reliability and repeatability in their processes.
How to get started