As the economic landscape changes, your company may find it necessary to reduce costs by outsourcing certain manufacturing processes that are currently performed in-house. Since 1987, Appli-Tec has assisted its customers by offering turn-key solutions to manufacturing molded, cast and encapsulated parts for a wide range of applications. There will n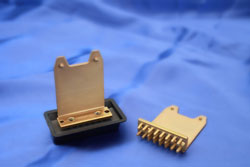 o longer be a need to coordinate with multiple suppliers; you'll benefit from Appli-Tec's experience in supply-chain management. Additionally, Appli-Tec can order and stock materials, solder, assemble, test and package your parts to your specifications.
Molds & Castings
Just as a dentist creates molds of teeth, Appli-Tec is able to fabricate molds to cast epoxy, polyurethane and silicone materials into intricately shaped parts. In addition to the spectrum of chemical properties enabled by these resins, such as thermal or electrical conductivity, strength and flexibility, molds made from resins are generally lower in cost than machined molds.
Likewise, liquid resin castings are cost-effective and can be used to make a wide range of parts from a prototype to an exact replica of an antique. Castings can also provide structure to intricate assemblies, such as linear motors and coils; they enable components to be anchored into position, ensuring form and function.
Encapsulation
Today's competitive markets demand that products perform dependably, often under the harshest of conditions. Sea air and water exposure pose particularly extreme challenges for sensitive circuitry. Over the past 13 years, Appli-Tec has encapsulated more than 750,000 sensors used on ocean-going ships to shield them from the harmful effects of salt and moisture. Similar conditions exist in outdoor equipment pits. Four years ago, Appli-Tec was tasked with encapsulating a circuit board that was to be installed underground. In the field, the board had a failure rate of over 30%, even though it had been conformal coated. Since the malfunction of this one board affected so many customers and required costly field service to replace, it was essential to make a robust replacement part that the sales force could use to regain the confidence of its customers. Appli-Tec designed a mold to fixture and encapsulate the board; the clear encapsulant not only provided a barrier to corrosive elements, but also proved a visually appealing sales tool for our customer. Over 35,000 of these boards have been encapsulated and the failure rate has fallen to less than one percent.
It is not only outdoor environments that present challenges to component manufacturers. Particulate contamination is often a problem on the production floor. For example, in machine shops, the metal dust produced by grinding often makes electrical devices prone to short circuit. However, encapsulating the circuitry solves this problem. If the circuitry must also dissipate heat, a coating with conductive properties may be used.
Circuitry that is subject to excessive vibration may benefit from encapsulation as well. Applying a flexible, yet strong resin coating is very effective in preventing breakage between connections. APPLI-TEC has encapsulated at-risk components used in motorized vehicles for many years with great success.
Sometimes challenges derive from human agents. For example, clean air legislation governing the combustion engine industry required that the mechanisms for adjusting fuel settings be inaccessible to consumers. But how could this be achieved efficiently and at minimal cost? APPLI-TEC sealed the setting screws with encapsulant, which has been proven an effective tamper deterrent.
The potential applications for encapsulants are as limitless as the human imagination. For instance, one of Appli-Tec's customers needed to remove 0.0001″ increments of bone from a human skull. Unfortunately, the skull could not be adequately fixtured to achieve a precision cut. However, once encapsulated in a block of resin, the skull could be securely anchored without risk of damage and the precise cuts were made with ease.
Dedicated to envisioning the possibility in every problem, Appli-Tec has decades of experience in adapting its technologies to unusual and difficult applications. APPLI-TEC's team of professionals – from customer service representatives to engineers – is responsive, adaptable and committed to meeting your company's needs.
About Appli-Tec:
Appli-Tec was established in 1983 and is widely recognized as a leading provider of advanced thermoset solutions.
Appli-Tec provides full-service adhesive packaging solutions, including premixed and frozen syringes, multi-component pouches and cartridges of nonreacted material, and large-volume containers. The company also offers an array of specialty services that includes custom material development; potting and encapsulation; conformal coating; casting, slicing, lapping and CNC machining; bonding, staking and tacking; and cryogenic storage.
Located in Salem NH, Appli-Tec operates a 20,000-square-foot facility and has been ISO-9001 certified since 1996. The company's strong emphasis on quality testing and certification has enabled it to become the preferred provider to defense, aerospace, medical, microelectronics and industrial firms that demand high reliability and repeatability in their processes.
How to get started