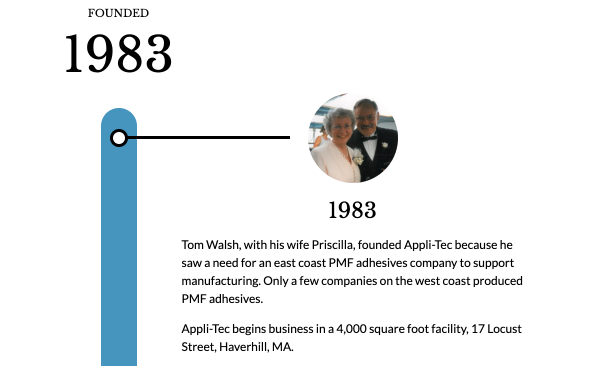 We recently published a historical timeline documenting our 38 years of business and adhesive innovation.
My father, Tom Walsh, started Appli-Tec in 1983 because he saw a need for an east coast PMF (Precision Mixed and Frozen) adhesives company to support manufacturing. Only a few companies on the west coast were producing PMF adhesives.
With that vision, he and my mom, Priscilla, opened shop in a 4,000 square foot facility in Haverhill, MA. Six years later, they moved the company to a 7,500 square foot facility, also in Haverhill.
During this time, Appli-Tec was supplying conductive and non-conductive PMF adhesives to dozens of North American Fortune 500 companies. One application that stands out was our development of an HGA (Head Gimbal Assembly) adhesive for Digital Equipment Corporation and Read-Rite Corporation.
My father, along with industry engineers, developed an electrically conductive, high strength epoxy for DEC's and RR's Head Gimbal Assembly. Our material's low-outgassing, very high strength, and conductive properties were critical for this application.
The company continued to grow. In 1999, I became CEO. In 2006, we moved the company to our present state-of-the-art location in Salem, NH.
While many things have changed over our 38 years, which you can read in our historical timeline, one thing hasn't changed: Our mission to provide defect-free adhesives that meet the needs of the application – every time.